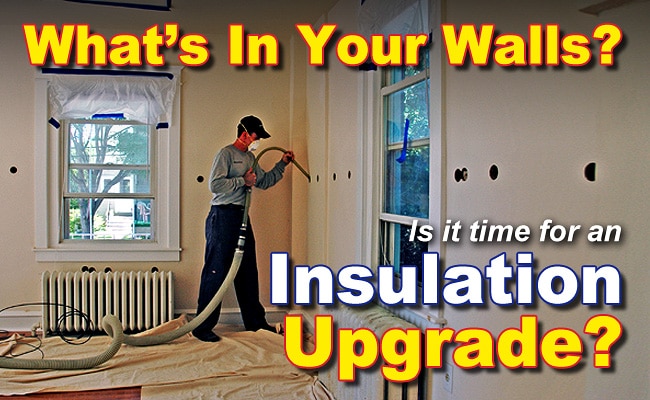 4 Home Improvement Projects To Help Make Your Home More Comfortable In The Winter
Don't let the cold of winter make your home an uncomfortable place.  Look At These Upgrades!
When it comes to any home improvement projects around the holidays everyone is looking to get the best bang for their buck.  Thankfully, in our area of the country the winter months offer homeowners a great opportunity to make their home more efficient and thus save money on their electrical bills.  This can be attractive for homeowners who are hosting family for the holidays and want to make some quick improvements to their home that will improve the enjoyment and the comfort of their guests.
Not every winter home improvement project has to center around energy conservation either, because of the cold winters we experience there are also preventative measures you need to take so your home doesn't receive damage over the winter.
If your home is already suffering from poor attic ventilation, a leaky roof, or a broken or clogged gutter system these are issues that should be addressed quickly as they can only get worse, depending on the weather.  Problems like unwanted Ice Dams can be damaging and costly to fix.  With a good maintenance schedule and some basic home improvements you can ensure you'll have a safe, comfortable and efficient home this winter.
Here Are 4 Home Improvement Projects To Consider This Winter
#1.  Don't Ignore Your Gutter System
Improperly functioning or clogged gutters systems are responsible for a wide variety of problems for a homeowner.  Ice dams, foundation problems, leaking roofs and more can often be traced back to a failure in the gutter system.  If it's not too late in the season and there isn't much snow accumulation already, there are a couple of things that can be done to ensure your gutter system operates trouble free.
One item to consider is the installation of heated cables underneath your shingles.  Installed under the first couple of rows of shingles, these cables produce heat that can help melt ice and snow so that ice dams cannot be produced.  Another option to consider is the installation of gutter protection to prevent leaf and organic debris build-up that can lead to clogged and overflowing gutters.
Make sure your downspouts at ground level are in place and directing water away from any pathways, sidewalks or driveway areas to prevent dangerous ice build-up.  Also make sure any downspouts on the roof around dormers or multi-tiered roofs are also clear and directing water away from your home.  Improperly placed downspouts (and poorly installed flashing) on upper levels can lead to water intrusion and very expensive repair bills for a problem that can often go unnoticed for several years.
#2.  Have Your Roofing System Inspected
Your roof is more than just shingles!  Your roof has been designed and installed as a system (if it was done properly) and all parts must be working in synergy to ensure your roof performs as the manufacturer of your shingles has intended (and if you want to have a warranty!).  Roofing ventilation should be adequate with proper cap and ridge vents installed wherever necessary.  In Minnesota we get cold winters and sometimes lots of snow.  As you can imagine, when your roof is caked with ice and snow it can be hard for it to breath so proper ventilation is key in preventing ice-dams and buildup.
Roof flashing is critically important and a problem we see frequently.  The flashing on your roof helps direct water away from building seams such as where a dormer and roof-line meet or around chimneys, vents and other protrusions from your roof.
Hail storms, wind, ice and snow all take it's toll on your roofing shingles.  If you notice a heavy build-up of sand or grit like material in your gutters, this is an indicator that your roofing material is wearing down.  A little bit of granules in your gutters are normal but heavy deposits should be inspected for a possible cause.
#3.  Seal Up Leaky Window Frames or Other External Openings Around Your Home
Do you have an older home?  If you feel around your windows do you feel a draft coming in?  There are dozens of locations in a home that have the potential to allow cold air in and warm air out which doesn't help you with your comfort or your power bill.  Sealing up around windows, making sure door seals are in place and also sealing up around any pipes or fixtures coming into your home is really important.
If your home is 15-25+ years old and you've never had your windows replaced, then window replacement is an upgrade you'll see benefits from.  Newer, more modern double-pane windows either wood framed or vinyl/aluminum framed are a big performance upgrade for any older home.
#4. Insulate Your Attic And Upgrade Wall Insulation
This is probably one area that homeowners don't often think about but it makes a huge difference in the comfort of your home.  Insulation technology has advanced significantly in the last 30 years and older homes that have poorly insulated attics are loosing a lot of heat through the attic and into the atmosphere.
Blown-in insulation systems can be installed in most attics in a day or two and the nature of the material and it's method of installation ensure that it is piled up in every nook and cranny in your wall or attic.  These blown-in attic insulation systems make an immediate difference in the comfort of your home and it's especially noticeable if you're original insulation was very inadequate.
According to Energystar.gov almost all of Minnesota counties are located in climate zones 6 or 7 (see the zones here).  This calls for an R-Value (the ability of your insulation to resist heat travelling through it) of R49-R60, most older homes do not meet these standards.
You can view the Energystar.Gov insulation recommendations for each climate here:  https://www.energystar.gov/index.cfm?c=home_sealing.hm_improvement_insulation_table
Do You Need Winter Home Repairs or Home Improvement Completed?
Thunderstruck Restorations LLC is a full service home improvement contractor based out of Anoka County, Minnesota.  We specialize in all types of home improvement projects including winter home maintenance or home repairs.  These include damaged roof inspections and repairs, attic insulation systems, window replacements and more.
If you'd like to receive an estimate from Thunderstruck Restorations LLC for any of these mentioned home improvement projects or any other problem you are having with your building exterior please give us a call (612) 806-7048 or use our contact form and we'll get right back to you.