Custom Built Wood & Composite Decks In Ham Lake, Andover, and Anoka MN
If You're In These Areas Searching For A "Deck Builder Near Me" We Can Help!
If you're planning to have a deck built this spring or summer you've come to the right place!  This page will answer the most commons questions about deck building in our area of Minnesota.  Whether you're looking to build a deck out of composite, PVC, Cedar, or pressure treated lumber you'll find great information here.
Wood decking is the tried and true for building decks.  In Minnesota we typically use pressure treated lumber or more decorative Cedar.  Both are excellent choices.
Composite decking is quickly becoming a popular product for homeowners (and business owners) looking to build new decks on their properties.  Composite decking is manufactured using real wood fibers infused with recycled plastics.  The resulting decking product is very strong, offers high resistance to the outside weather and it will never need to be sanded or painted.  The decking material comes in a selection of colors and patterns depending on the manufacturer.
There are many different types and compositions of composite decking materials and for our Minnesota climate we usually tend to recommend materials that have a composite core, with a PVC outer layer.  This helps prevent the growth of mold which can be surprising for some homeowners who were under the impression that composite decking materials were immune.
ThunderStruck Restorations LLC is a full service deck building contractor specializing in designing and building composite decks and wood decks out of Cedar and pressure treated lumber.
On this page we're going to explain everything you'll need to know about building a deck on your Ham Lake, Anoka, or Andover property.  What it costs to build a new composite deck, what factors contribute to the cost of your deck, add-ons and upgrades for your deck, and how to choose the best contractor to build your deck.
Thunderstruck Deck Pricing

A deck is a beautiful addition to your home and an amazing lifestyle upgrade.  We believe in being transparent with our pricing so that our potential clients know exactly what to expect when having your deck built by a team of professionals.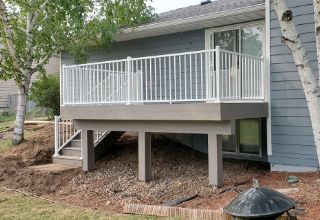 This would be for a (10' x 10' or 10' x 12') deck with basic framing and wooden handrails.  This pricing doesn't include any extras mentioned below.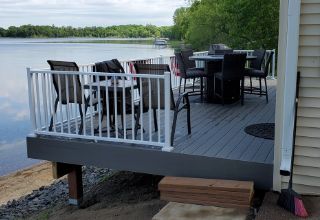 A medium sized deck (12' x 16') would include handrails, framing, and composite decking material.  This pricing doesn't include any extras mentioned below.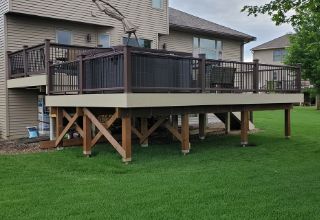 This would be for a larger deck that requires bracing for something like a hot tub.  Includes braced framing and aluminum handrails.  This pricing doesn't include any extras mentioned below.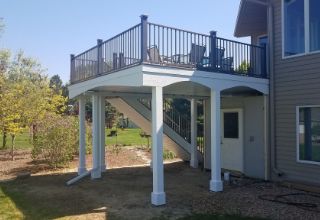 This would be for a larger or multi-level deck with basic or braced framing and aluminum handrails, rain gutter system, lighting, and custom finishing details.  This is for a high-end deck.
Deck Upgrades Can Include

These items are extras and upgrades that can make your deck more functional
for your lifestyle or add more luxurious finishing details.
These prices are only ball park figures to give you a rough idea as to what you should expect for the cost to build a composite deck.  Your particular composite deck project may vary depending on site accessibility, the specific materials chosen, and the overall scope of work.  If you need a firm price please request a consultation so we can view your potential project, listen to your ideas, and determine the actual scope of work required to complete your project.  After our on-site consultation we'll be able to provide you with a firm estimate to build your new composite deck the right way.
Azek® And TimberTech® Composite Deck Design and Construction
The parent company of Azek® decking products purchased TimberTech® in August of 2012.  This created one of the largest providers of composite decking products in the World.  Known for their high quality and a large amount of choices for the consumer, a deck built with materials from either manufacturer is a great choice.  It's important to know the subtle differences between Azek and Timbertech  though.
Azek® is actually a PVC decking product, made out of recycled plastics.  It's engineered to provide the ultimate in scratch, mildew and stain resistance while preserving the natural look of a wood deck.
The Azek Arbor Collection Available Styles
How Do You Maintain A Composite Deck?
Your maintenance will involve a thorough cleaning once or twice per year (depending on the mold/algae growth) with a pressure washer.  That is basically it!  Wood decks need to be power washed, sanded and painted every few years or they'll simply rot away and fall apart.  Composite decking on the other hand will stand up to the elements much better, and for much longer without you needing to step in with pro-active maintenance.
What Drives The Cost Of Your New Deck?

What's It Cost To Build A Deck?  Well, that's a difficult question to answer without knowing what you want.  Size, materials, complexity, extra add-ons, all contribute to the price of a new deck.  This will guide will hopefully explain the cost variables a little better.
Permits For Deck Building:  The first thing we to talk about with respect to the cost of your new composite deck is the permits.  In Minnesota, the permitting process can be slightly different in each city and the costs also vary.  It could be as little as $85 or up to $300+.  The size of the deck, the height, property setbacks, and more all contribute to this cost.  At Thunderstruck Restorations we handle the entire permitting process for our clients from start to finish.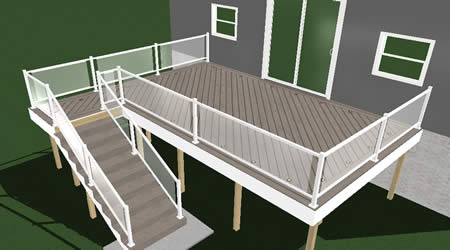 Deck Design
We can't just "wing it" with your new deck.  We need to take measurements, and come up with a beautiful design.  At Thunderstruck Restorations we provide clients with a 3D deck design so you can see what your deck will look like before it's built.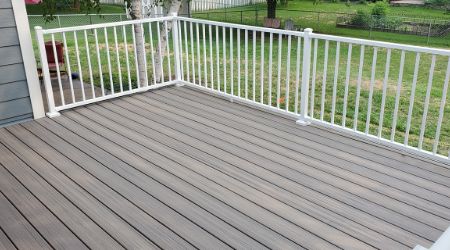 Materials
The materials you choose contribute greatly to the cost of building your new deck.  There are many composite deck products on the market and depending on style and size of the deck they can increase the price substantially.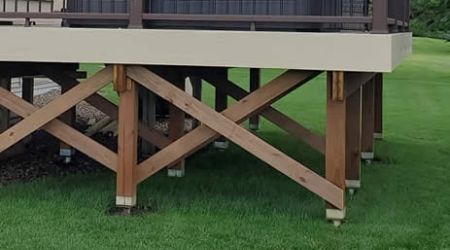 Deck Framing
Depending on how large the deck is and how much weight it's going to bear you could require more complex framing and bracing.  If you want your deck to be able to support the weight of a hot tub the framing will cost more money.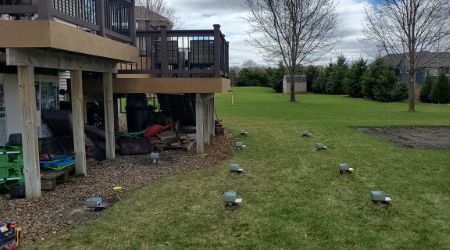 Footings
Footings support the entire deck structure.  Large decks require more footings if they are holding more weight, like a hot tub.  We prefer to use helical piles wherever possible as they are a much cleaner install than using concrete.
Rain Gutters
Rain gutter systems keep the water out below the deck.  This is a great option if you have an elevated deck with a patio below or you want to keep an area below the deck for dry storage.  These systems cost more money in materials and labor.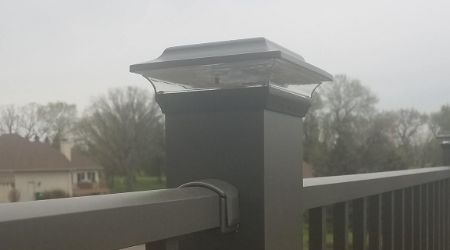 Lighting
Lighting makes your deck more enjoyable and safer for evening use.  Lighting requires additional planning for the electrical work needed to power and operate the lighting system.  There is a wide variety of lighting systems to choose from.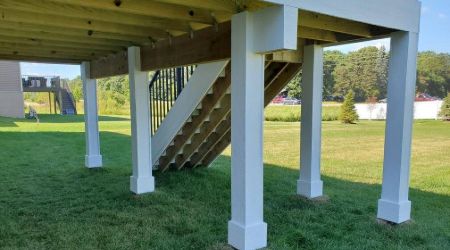 Cladding
Cladding can be installed to dress up the deck framing and supports.  The cladding can match your home for a nice, clean, appearance.  The installation of cladding requires additional materials and labor for the installation.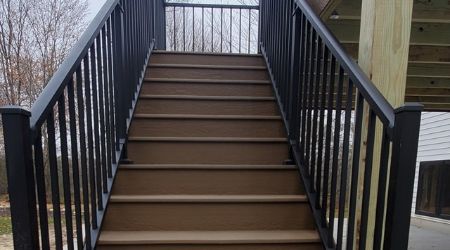 Stairs
Stairs are pretty much a necessity when building a deck and they require additional labor and finishing details to build properly.  Elevated decks can sometimes require stair transitions as well which will contribute to the overall cost of the deck.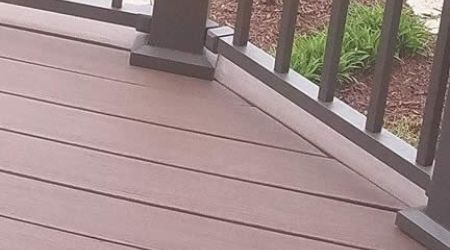 Picture Frame
Picture framing the decking materials is a nice way to add a finishing touch around the perimeter of the deck.  This finishing option can add additional labor to the project as we need to frame the deck differently to allow for this decorative edge.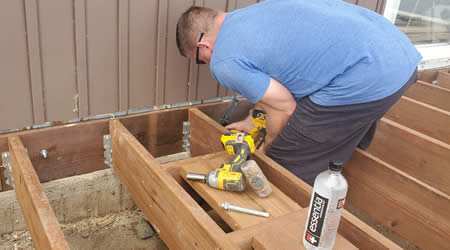 Labor
Labor is probably the biggest contributing factor to the cost of building your new deck.  We typically run a two to four man crew with our decking projects.  Excellent craftsmanship is one of our hallmarks and we only employ the best!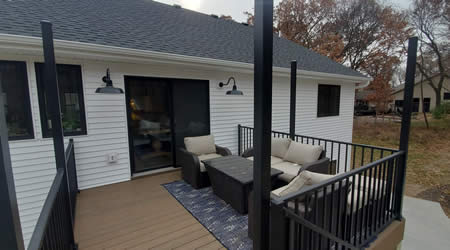 Insurance
If you're hiring a contractor to build your composite deck it's important they are properly insured.  We are properly licensed and insured so you know that your property and our employees are always going to be protected.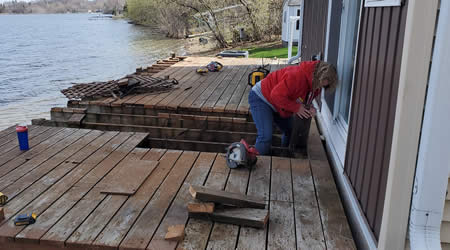 Demolition
Not required with every project but in many cases we need to remove the old, wood, deck before we can begin construction.  This requires labor for the demolition and we will also need to have a dumpster delivered for proper disposal.
Check Out The Decks We've Built

We've built dozens and dozens of decks throughout Ham Lake, Andover, Anoka, and the surrounding area.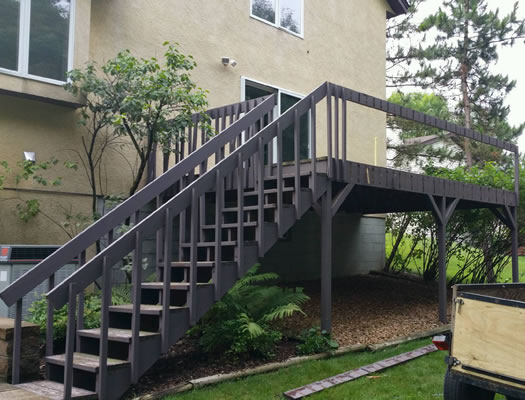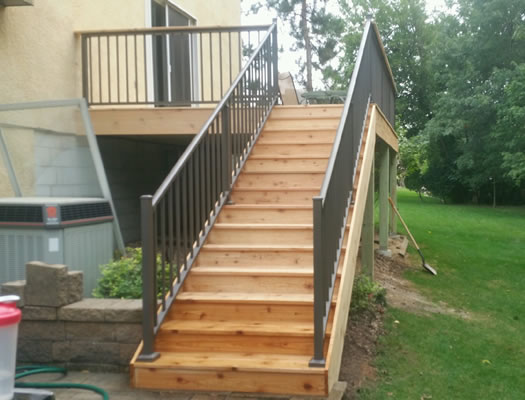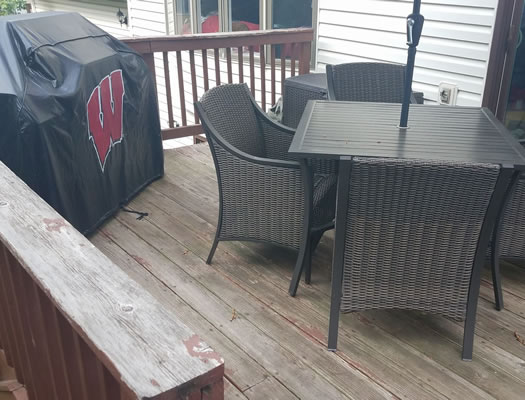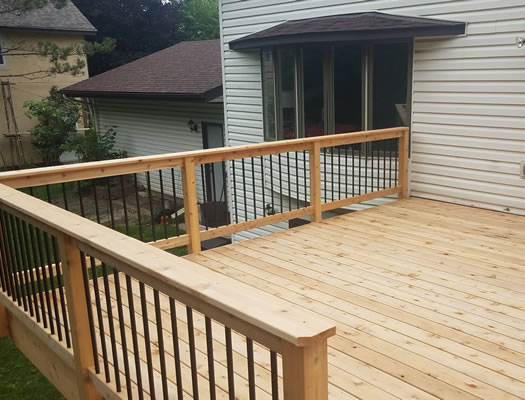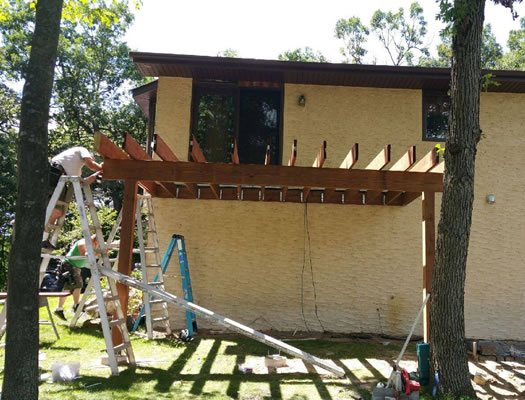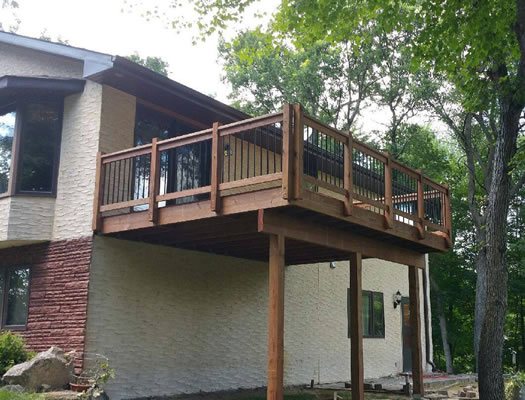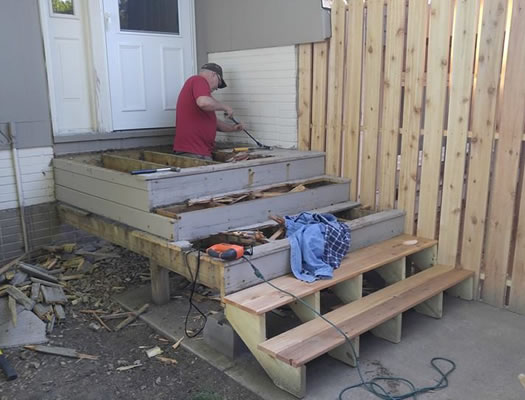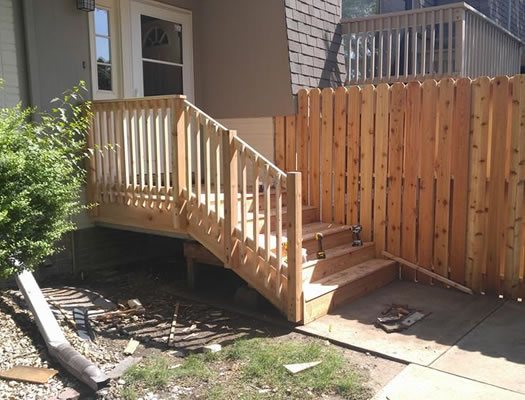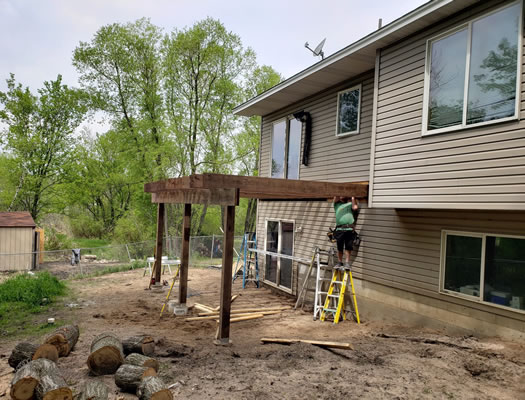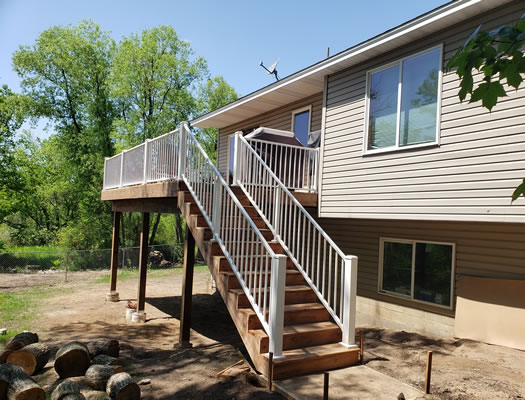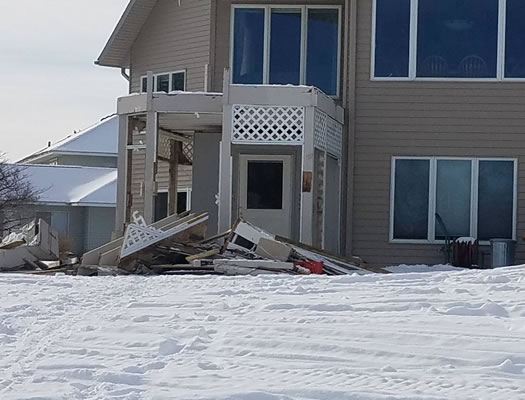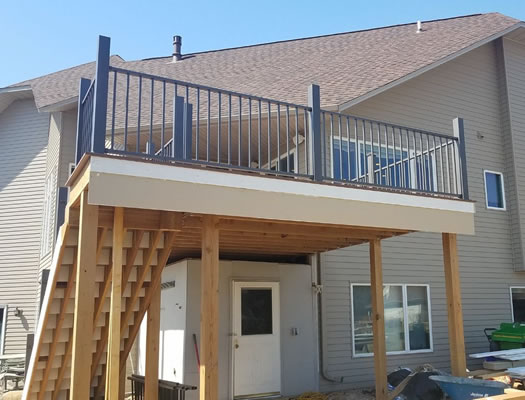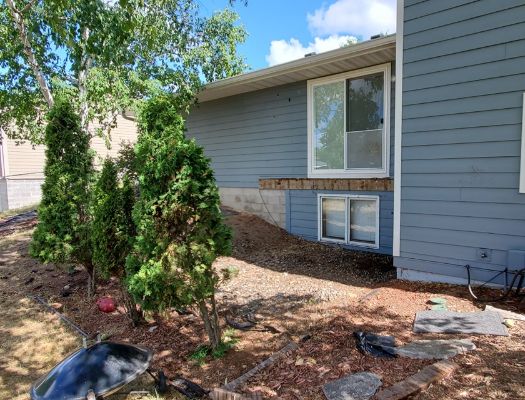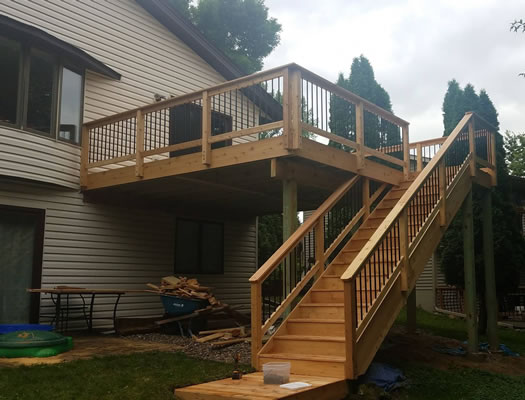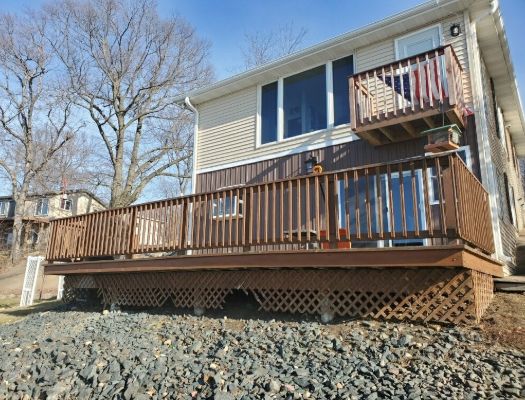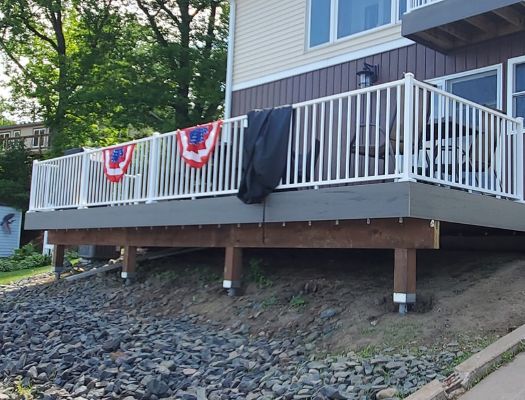 Choosing The Right Deck Contractor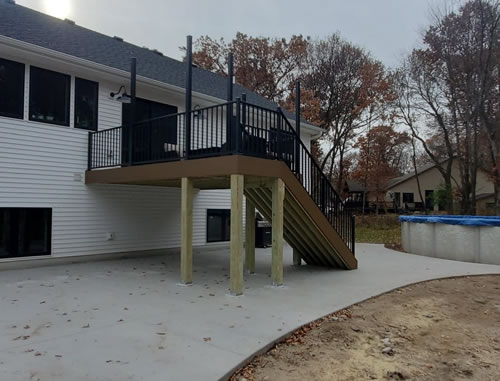 You Want A Beautiful Deck...?
There are literally hundreds of contractors you could choose from throughout Ham Lake, Andover, and Anoka to build a new composite deck.  They range from small one man handyman type businesses to very large companies with lots of overhead.
Somewhere in the middle is the contractor that's probably best suited for your particular project.  Finding a contractor you can trust to take your vision and transform it into a beautiful deck you can relax on with friends or family on a warm summer evening is your ultimate goal.
You're not hiring a deck builder.  You're hiring someone to improve your home and upgrade your lifestyle.  It's an important distinction.
What Should You Consider?
It can be overwhelming trying to figure out who to hire to build your new deck.  To make things easier when trying to determine who the right contractor for your project is, start with these questions.
Do they specialize in building decks?  If yes, how long have they been in business?
Do they have great reviews from other homeowners who've hired them to build a deck?
Do they offer any type of workmanship warranty or after sales service if there is ever a problem?
Do they have photos and references of the work they are capable of doing?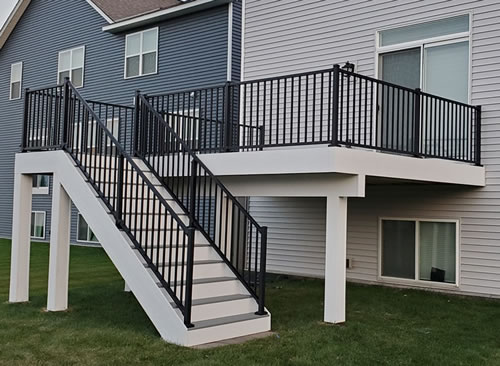 The Thunderstruck Restorations Approach

Request Your Consultation

The process starts by requesting a consultation.  We offer FREE and PAID consultations and we'll explain the difference between these options below.

FREE Estimates

If you'd like a FREE estimate we can provide a rough estimate over the phone based on the measurements of your deck and the materials you'd like.  This is NOT a firm price but rather a rough estimate to give you an idea on cost.  For firm pricing you'll want an "on-site" consultation.

On-Site Consultation

The cost for an on-site consultation is $150.  This includes travel to and from your location, accurate measurements, materials consultation (we have samples), firm pricing estimate including materials and labor, and we'll also provide you with a 3D design rendering of what your new deck will look like.  This fee will be applied to your project should you wish to move forward.

Materials Deposit & Scheduling

If you decide to move forward with the project we will put you onto our schedule and then request a deposit for the ordering of materials for your new deck.  The deposit can vary depending on the size but it's typically 20%-50% of the project value.  We DO NOT order materials without a deposit from our client.

The Deck Permit Process

We'll handle the permitting process from start to finish.  We will provide the county with a materials list, measurements, and property setback information for your project.  We do not build decks without proper permits in place.

Your Scheduled Start Date

We'll show up on your scheduled start-date and get to work on building your new deck!  Material delivery will be organized and we'll begin the deck building process starting with removal of the old deck (if required), installing footings, framing, decking, and final finishing details.

Upon Project Completion

Upon completion of your new deck we'll go through the project with you and make sure you are 100% happy with what we've built for you.  We then organize the local building inspector so they can come out and complete the required inspection.

Final Payment

Upon acceptance of the project by you and completion and signing off of the required deck inspection we will then ask for the balance owing on the project.  Payment can be made by bank transfer, check, cash, or credit card.

Enjoy Your New Deck!

With your new deck completed, it's time for you to sit back, relax, and enjoy a drink on your brand new deck.  We know you'll be thrilled with the work we do.  If there is any problems or you have questions, we are always happy to help our customers and we stand behind our work 100%.
Consultation & Quote Information
We only offer free estimates over the phone and they are going to be a ballpark estimate based on what you describe below.  If you choose to have an "on-site" consultation it will include; travel to and from your location, one hour of consultation, accurate measurements, site assessment, materials walk-thru and selection, firm estimate on price, and we will also provide you with a 3D design rendering of what the deck will look like.  This process takes 2-3 hours of our time including drive time, consultation time, and design time in our office.  If you're serious about building your new deck, we are too!
Request Your Deck Estimate
Fill Out The Details Below For An Accurate Quote