Asphalt Shingle Roof Replacement in Ham Lake, Andover, and Anoka MN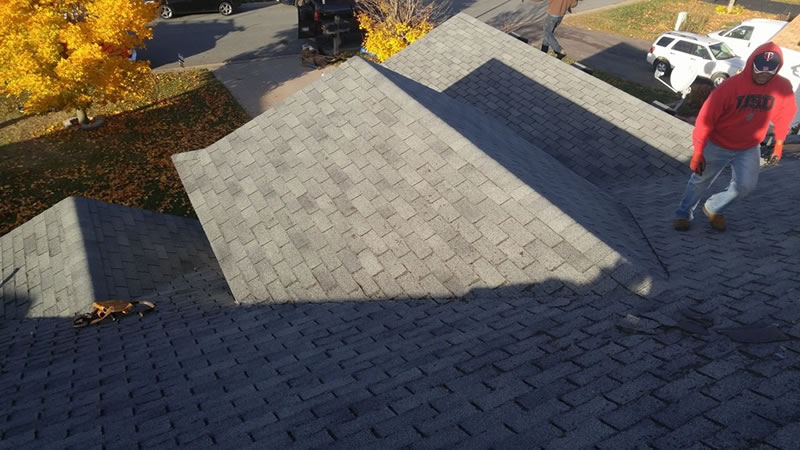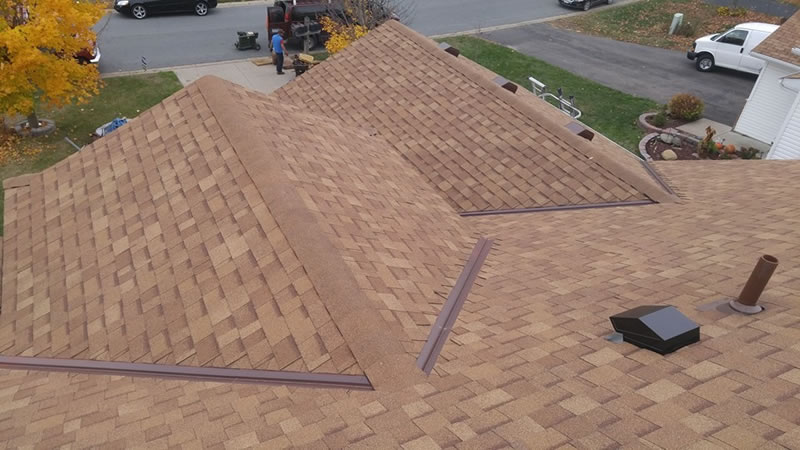 Asphalt Shingles Come In Many Styles and Textures
We install asphalt roofing systems from major manufacturers.
Asphalt Shingle Roofing is probably one of the most common types of roofing material you'll find throughout Minnesota.  Why is this…?  It's probably because Asphalt Shingles are the most affordable roofing option and they come in literally hundreds of different colors, styles and compositions.  If you choose Asphalt shingles you'll more then likely be able to select the perfect shingle to accent your roof and protect your home.
ThunderStruck Restorations LLC is a full service specialist roofing contractor specializing in Asphalt Shingle Roofing.  From your initial roofing inspection through removal and installation we meticulously take care of every aspect of your roofing project.
Our Price Match Guarantee
We can meet or beat our competitors pricing on asphalt shingle roof replacement!  There are some conditions though.  The estimate must be from a licensed, insured, and factory certified roofing contractor.  When you're shopping for a new roof for your home it makes no sense to overpay by thousands of dollars for the exact same roofing materials another contractor would install.
How Can We Price Match?
At thunderstruck Restorations we operate with a lean business mentality.  We don't have a big showroom or a fleet of company trucks driven by commissioned sales people.  These business practices drive up the price of a roof substantially.  By keeping our overhead low, we're able to provide much more competitive pricing and you don't get any less roof!  We are licensed, insured, and we are also factory certified which means that your new roof will be installed to meet or exceed the manufacturers requirements and it will also qualify for the maximum available warranty.  Don't overpay for your new roof!  Get an estimate from Thunderstruck Restorations Today!
Roof Replacement Projects We've Completed
What You Need To Know About Asphalt Shingles:
Your roof is constantly exposed to the harsh abuse of mother nature.  Sunlight, Wind, Water and Ice ALL work to slowly breakdown your roofing material over time.  If you've ever cleaned your gutters and noticed a large amount of what appears to be sand in your gutters then your roof material is actually breaking down.
As these little granules slowly start to separate themselves from the roofing material they leave it exposed to the elements which decreases the performance and lifespan of your roof considerably, over time this process continually erodes away at your roof.
While Asphalt Shingles were designed to be an extremely durable roofing material that can withstand these rigors for many, many years, they do not last forever.  Thankfully though, Asphalt Shingles have come a long way and now roofing systems last much longer and deliver much more value to the homeowner, hence why roofing upgrades are very popular.
Asphalt Shingles are available in a wide variety of price ranges depending on the color, style and the actual composition of the material.  It should be obvious that some Asphalt Shingle Roofing systems are much better than others.
Types Of Asphalt Shingles We Install:
3 Tab Shingles
Designer Shingles
Architecural Shingles
Asphalt Shingle Ratings –The ratings on Asphalt Shingles were formulated by the American Society for Testing and Materials (ASTM). Shingles with a Class 4 rating have more adhesive strips under the tabs which help them resist strong winds. Class 4 shingles also take six nails as opposed to four when fastening the material. The Underwriters Laboratory (UL) test determines durability from wind and hail impacts. A Shingle that can withstand 60 mile per hour winds for two straight hours will gain the UL certification.
It's important that the roofing contractor you choose to install your Asphalt Shingle roof educates you on the products that are available and what will work best for your specific home. You want to be sold the right product for your roof! Not the most profitable product for the roofer.
Atlas StormMaster Shingles
StormMaster® Shake shingles featuring Scotchgard™ Protector offer durability and architectural style for a timeless look.
Popular CertainTeed Roofing Shingle Colors
CertainTeed Landmark
CertainTeed Landmark Pro
Start Your Roof Replacement With a Hassle Free, No Pressure, Roofing Quote
At Thunderstruck Restorations LLC we offer a different kind of roofing experience.  We hear so many of our customers complain about the high pressure sales tactics some of our competitors are using, we'd made an effort not to be like that.  We don't waste your time with the high-pressure sales gimmicks employed by many other local roofers.
When you schedule your roof replacement estimate with us we're going to arrive to your home at the specified time.  We'll introduce ourselves and then we'll get straight to business and ask you a few questions about your existing roof.  We'll take some quick measurements and do a preliminary inspection of the condition of the roof so we know what we're working with.
Once we know the square of your roof (how your roof is measured) we can quickly get down to brass-tacks and explain our pricing for your roof replacement based on your chosen shingle.  We'll be able to offer you good, better, and best high quality roofing shingles depending o n your budget.
We'll explain the products features and warranties to you and show you the differences between them, such as how the warranty works, how long it might be for, and answer any questions you may have.
Roof Tear-Off And Disposal
If we're tearing off the existing layer (or several layers) of shingles then we'll come with our dumping trailer so we can tear-off and dispose of the old shingles without causing a giant mess on your property.  Safety and cleanliness while on your property are very important to every member of our team.
Roof Decking and Flashing Inspection
Once we've torn off the old asphalt roofing shingles your roof decking (or sheathing) and roof flashing will be exposed.  After a thorough inspection we can replace any damaged or rotten roof decking if necessary, we can add any required ventilation, and we'll also install new roof flashing wherever required.
Our attention to detail at this stage is key to ensuring you get the best performance and longevity out of your new roof.
Installing Your New Shingles
We install your new roofing shingles to meet or exceed the manufacturers recommendations.  We are very rigid in our installation practices so your replacement roof will qualify for the maximum amount of manufacturers warranty.  This includes using a proper ice and water shield, installing quality roof flashing, and we always use additional high quality fasteners to secure your shingles.
We are a CertainTeed Shingle Master Company and have been certified in the installation of their roofing products.  We are very knowledgeable on the CertainTeed line up of roofing shingles and we can make sure you make a great decision for your home.
Job Site Clean-Up
When we're done with your roof replacement you won't even know we were on your property aside from the fantastic new roof on your home or building.  We clean up all debris, we use magnetic rollers to collect any roofing nails that may have fallen, and we properly dispose of your old shingles to the landfill or appropriate recycling facility.
We realize that you've got many choices when it comes to choosing a roofing contractor to repair or replace your Asphalt Shingles in our Minnesota service area. We want you to know we understand and appreciate the commitment you are about to make to your home and we take it very seriously.
When you choose ThunderStruck Restorations LLC you're choosing a partner in making your home a better place. We guarantee it!
If you'd like to receive an estimate to repair or replace your asphalt shingle roof please give us a call (612) 806-7048 or fill out our online form and we'll get back to you right away.