Severe wind, rain and hail storms are all weather events that can cause significant damage to your home.  Living in Minnesota, these are weather events that we just can't avoid unfortunately so it's not a matter of "if" storm damage occurs to your home, it's really a matter of "when" will storm damage occur to your home.  If you are the unlucky homeowner who's discovered some damage to your home from a recent storm there are certain things you can do to make the insurance/repair process easier on yourself and those involved.
The first thing you'll want to do is find your insurance policy, either your homeowners policy or commercial policy and contact your insurance company.  It's always a good idea to catalogue the damage to your home with photos and written descriptions of the damage where ever possible, if it was a hail storm that damaged your home, be sure to take photos of the hail on your roof and on your lawn.  You can lay a quarter or a measuring tape down beside the hail to show it's size.
The more documentation you have the better off you'll be and photos of damage and what caused it will only help support your claim.
Storm Damage To Look For:
Missing, torn or dented shingles
Damaged and broken siding
Dents or dings on roof-top or exterior air conditioners
Broken exterior light fixtures
Metal gutter and downspout damage
Skylight damage
Flashing damage
Chimney damage
Window and trim damage
After a severe storm some homeowners will take a few minutes to walk around their home and assess the damage they can see from the ground, after a severe weather event such as a hailstorm or freak windstorm but much of the damage (especially the most critical to spot) is usually going to be unnoticeable from the ground.  Often a professional, with a trained eye will need to climb up on the roof and have a really close look at the entire surface paying special attention to specific problem areas.
If your home has been legitimately damaged by a weather event such as hail and you have insurance coverage you are entitled to have your home repaired properly.  Every year in Minnesota there are many homeowners who mistakenly pass up the opportunity to repair or replace their damaged roofs and building exteriors because they fail to spot the damage or fail to report it within the 2 year period.
How Soon Should You Inspect Your Home After A Storm Has Occurred?
The answer is as soon as it's safe to do so!  You certainly don't want to be inspecting your roof in the middle of a golf ball sized hail storm!  With most homeowner and commercial insurance policies you have 2 years from the date of the occurrence to file your claim and obviously with a lack of documentation and slow reporting, the chances of a successful claim diminish.
Take photos of any damage (if it's safe to do so)
Take photos of the hail or rain
Measurements always help!  (size of hail)
Document any issues or concerns in writing!
When Should You Contact A Home Repair Professional To Inspect Your Storm Damaged Home?
Generally, as soon as possible!  What many homeowners disregard as wear-and-tear can often be severe damage to the home exterior caused by hail, wind or rain.  A professional storm damage repair contractor knows exactly where and what to be looking for on your home.  Hail damaged shingles for example, are hard to spot with a trained eye.  Most homeowners would simply skim over the damage, when they are in-fact entitled to having their home repaired through their homeowners policy.
Who Should You Contact To Repair Your Storm Damaged Home?
We'll start by telling you who not to hire!  After a severe storm there is usually an influx of non-local tradesman that quickly rush to the area, canvassing homes and neighborhoods offering to inspect your roofing, gutters and siding for free.  Often referred to as "storm chasers" these are often fly-by-night contractors out to make a quick buck.  This become such a problem in Minnesota that the state legislature had to enact a bill.
August 1st 2010 the legislature made effective Minn.stat.ss325E.66 which is referred to as the "Storm Chaser" bill.  This bill establishes industry standards and safeguards to assist homeowners from being exposed to the underhanded tactics or marketing campaigns conducted by residential roofing contractors or contractors who provide roofing services.
The bill contained two essential provisions. The first section of the bill states that roofing contractors are not permitted to advertise, promise or otherwise rebate any portion of a homeowner's insurance claim deductible from proceeds paid by the insurance claim.  If a contractor who works to repair damage on your roof or home violates this law, your insurance company is not obligated to consider that specific contractors estimate for the repair and the homeowner or insurance company may both file claim in a county court for damages.
The second section of the bill allows the homeowner to cancel any written contract with a roofing contractor within 72 hours after the homeowner is notified by their insurance carrier that a claim has been denied.  This is very important information for a homeowner to know prior to engaging the services of any contractor to repair damage to their home.
As a homeowner it's your responsibility to make sure you're not going to be making a poor choice when it comes to the repairs on your home.  Choosing a contractor that isn't local, or likely isn't going to be in business for many years leaves you with uncertainty over the installation and the validity of any warranty that might be offered by the manufacturer because you certainly won't get a workmanship warranty from one of these outfits.
Thunderstruck Restorations LLC Is A Local Storm Damage Repair Contractor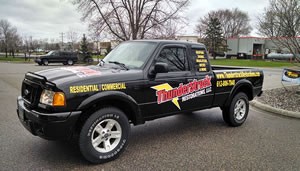 Thunderstruck Restorations LLC is a locally owned and operated small business based out of Ham Lake, in Anoka County MN.  We specialize in roofing and home inspections after hail, wind or severe rain storms.  Our experienced roofing inspectors will be able to take a look at your roof and give you an honest assessment of the damage (if any) and what your best course of action will be to have it repaired or replaced.
Our storm damage repair team is well versed on the processes involved in working with local and nationwide insurance companies to repair storm damage on our clients homes.  We will be able to document any damage with photos and a detailed written assessment.
At ThunderStruck Restorations, we adhere to a very tight code of conduct with regards to the quality of our work, the efficiency of our service, and our professionalism while working on and around your property and in our community.  We are A+ rated with the BBB and we are also certified ShingleMasters through CertainTeed which means we can offer up to a 50 year warranty on roofs installed professionally by our team (*ask for details)
If you want your home repair project done right the first time by an honest company that will be here to stand behind their work, we're glad you've stumbled upon our website.
If you'd like to receive an assessment and estimate from Thunderstruck Restorations LLC to repair or replace your storm or hail damaged roof, siding or home exterior please give us a call (612) 806-7048 or fill out our contact form and we'll get right back to you.