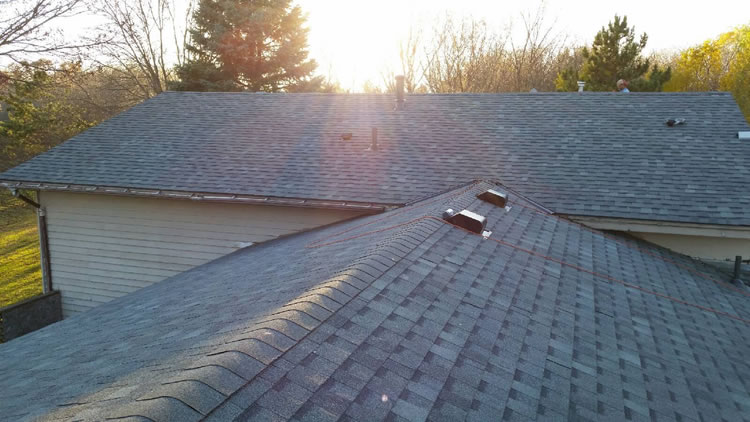 Replacing Asphalt Shingles On Commercial Properties
Here are few things every Minnesota property manager should know
Do you own or manage a residential development or a commercial property that is in need of roof replacement now or in the immediate future?  Roofing is a significant expense and even moreso if you're spending $50,000+ to replace the asphalt shingles on a structure much larger than your single family home.
If you're replacing the roof on your condo, townhome, apartment complex or other commercial building then there are several things that should be important to you.
#1.  Warranty:  When roofing makes up part of a fixed budget for a commercial development it's a good idea to choose a roofing product with a rock solid warranty.  It's even more important to choose a certified installer that will be around to service your roofing warranty should the need arise.  Using non-certified installers for large roofing projects just to save money could end up costing you a new roof much sooner than you've budgeted for.
Shingles come with 15, 20, 25 and even 50 year warranties depending on the manufacturer, the shingle type and if it was installed as part of a "roofing system" from a particular manufacturer.
Hint* – Roofing systems usually include roof underlayment (moisture barrier), hip and ridge vents, and shingles from a particular manufacturer.  When you choose an entire "roofing system" from one manufacturer and use certified installers you can usually max-out any potential warranty coverage.
#2.  Quality Of Installation:  We shouldn't even have to mention this, but with so many companies out there trying to make a buck off roofing (storm chasers) it's important to note, especially on a large projects such as commercial properties or residential developments.  Working with a company who is factory certified in the particular type of products they install can help insure that your roofing materials are installed correctly.
Whether we're replacing a steep slope roof or a low slope roof it's the finer details of the installation that really make a difference in how it performs.  Details such as proper roof flashing, making sure shingles are properly secured with the proper amount of fasteners, ventilation and more.  On a residential or commercial structure that is worth a few million dollars it's not a good idea to cut corners with your roofing.  We use only the finest quality materials for large projects and we don't use inferior products pad our own pockets.
#3.  Additional Value:  Our experienced roofing crews take great pride in the roofing replacement work they do and are always looking out for the best interest of our customer.  We'll let you know during your roofing project if we come across anything that needs attention.  From proper roof venting, gutter replacements, rotten sheeting replacements, fascia and more our roofing team will be able to provide solutions to keep your building safe, protected and looking it's best.
#4.  Job Site Cleanliness and Safety:  For most larger roofing projects, it's not a project that can be completed in just one day.  These are often multi-day projects sometimes taking as long as a week or more to complete.  If you have a building with tenants or a busy commercial property site cleanliness and safety are very important, as is the protection of your existing landscape if the building has a well established grounds with lawn and gardens.
Keeping our job sites safe, well organized and clean are very important to us and our employees.
#4.  The Agreed Upon Price:  For the most part roofing projects aren't too difficult to price after taking some basic measurements to calculate the "square" of the roof.  Materials are generally a fixed cost and there are discounts available for large volume orders such as those for large residential, multi-family or commercial buildings.
When we put together an estimate for a large roofing project our final cost is going to include everything to remove the old roof and replace it.  This is going to include the initial inspection, protecting your landscaping, removing the old roofing, appropriate waste handling using dumpsters, ventilation, flashing, new roofing shingles and the installation.
Roofing companies that lack the experience estimating much larger projects often aren't accurate and/or will continue inflating their prices as the project goes on.
Do You Need The Asphalt Shingle Roofing Replaced On Your Commercial or Residential Development?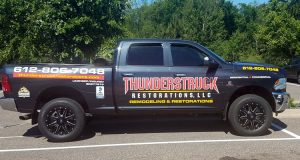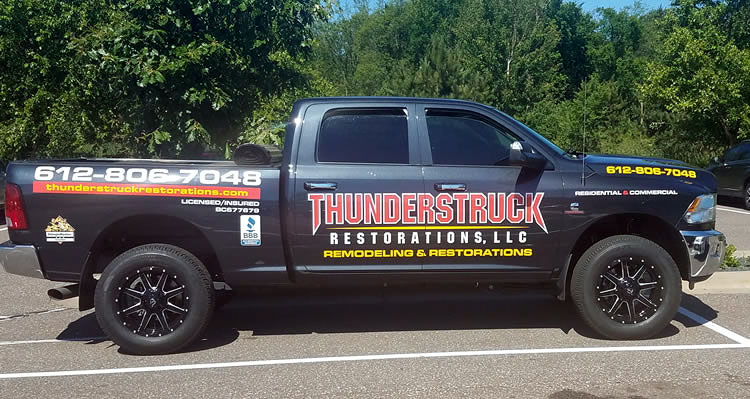 Thunderstruck Restorations LLC is a full service roofing contractor based out of Anoka County, Minnesota.  We specialize the tear-off and replacement of asphalt shingles for residential developments such as townhomes, condos and apartment buildings as well as commercial buildings, or other large structures.
We are a Certified "ShingleMaster" Company from CertainTeed roofing and we can offer a variety of shingle types and styles that will help improve the look and performance of any large structure.
If you'd like to receive an estimate from Thunderstruck Restorations LLC to replace the roof on your structure please give us a call (612) 806-7048 or use our contact form and we'll get right back to you.