Home Improvement Contractor Specializing in Roofing, Siding, Windows, Insulation and Deck Construction in Ham Lake, Minnesota
Thunderstruck Restorations LLC,  Is Family owned and operated Business that has proudly been serving the Minnesota area for several years.  We are well known for our high quality workmanship and our ability to effectively solve problems with regard to our customers homes.
It is our mission to provide our clients with on-time performance, quality work, and making sure our customers are more than satisfied is our #1 priority.
Our clients appreciate our honesty, punctuality, and attention to detail. Each project is unique and we offer our customers a comprehensive construction plan, sound advice, and genuine peace of mind with our finished work.

Some Recently Completed Projects
Thunderstruck Customer Testimonials
"ThunderStruck recently finished up building our deck. They did a great job! He worked with us on the design and built one solid deck! It is refreshing working with a contractor that takes such pride in their work. The rest of the team was top notch as well. They have earned our trust and we will spread the word. Thanks ThunderStruck!"
"We did not discover Thunderstruck via Angie's List, but we are certainly glad we did get connected.  We realized that our deck was past the point of refinishing, and started looking for estimates for replacement in 2015 (or 2016, since it was late July already). I read about an interesting product online, and it was through a link for that product that they contacted me. They called and came out on Saturday, August 1, before anyone else I had contacted

via Angie's List. He didn't come out to sell the product, but rather to hear what we wanted in terms of a new deck. He brought along a variety of decking products, and spent 75 minutes reviewing our thoughts and tossing out ideas. He insisted on leaving samples so we could get a sense of what they are like after sun exposure (some products get awfully hot).
Within a day he had assembled estimates for different options, from wood to composites, covering a variety of prices. We became more familiar with the many options out there, and over a 10 day period there were were numerous emails and phone calls to clarify and refine the plans. We called his references, and the comments were outstanding.

Now, just a month after first contacting him, the project is complete, and it looks great. We have a beautiful cedar deck with no-maintenance aluminum Westbury railings, and a cedar drink rail. The Thunderstruck team was there to keep track and help out as Beau (sp?) and Rod put things together, and to make sure that we were getting the look we wanted. Better yet, Rod made a simple design suggestion that enhanced the look, and Beau did meticulous work. Like I said, we are glad we got connected and recommend them highly."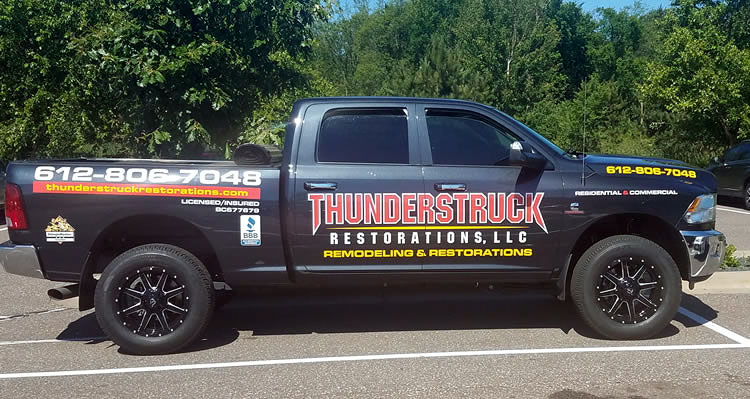 Ready To Schedule Your Estimate?
Give us a call at 612-808-7048 or fill out our quick contact form on the website and someone will get right back to you.