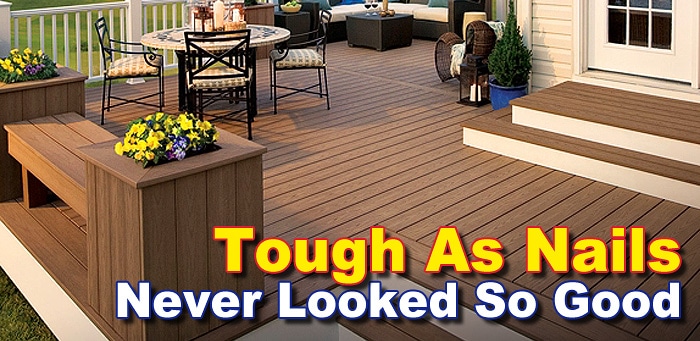 Custom Built Composite Decks Ham Lake, Minnesota
We build decks out of many different composite materials
Composite decking is quickly becoming a popular product for homeowners (and business owners) looking to build new decks on their properties.  Composite decking is manufactured using real wood fibers infused with recycled plastics.  The resulting decking product is very strong, offers high resistance to the outside weather and it will never need to be sanded or painted.  The decking material comes in a selection of colors and patterns depending on the manufacturer.
There are many different types and compositions of composite decking materials and for our Minnesota climate we usually tend to recommend materials that have a composite core, with a PVC outer layer.  This helps prevent the growth of mold which can be surprising for some homeowners who were under the impression that composite decking materials were immune.
ThunderStruck Restorations LLC is a full service home improvement contractor specializing in designing and building composite decks.  We can help you design a deck to your specifications.  We'll take your property into account and any views or sun/shade you might have available.  When you are happy with the design then we'll get to work building a beautiful new deck on your home or property using composite materials.
Composite Decks We've Completed
Azek® And TimberTech® Composite Deck Design and Construction
The parent company of Azek® decking products purchased TimberTech® in August of 2012.  This created one of the largest providers of composite decking products in the World.  Known for their high quality and a large amount of choices for the consumer, a deck built with materials from either manufacturer is a great choice.  It's important to know the subtle differences between Azek and Timbertech  though.
Azek® is actually a PVC decking product, made out of recycled plastics.  It's engineered to provide the ultimate in scratch, mildew and stain resistance while preserving the natural look of a wood deck.
The Azek Arbor Collection Available Styles
How Do You Maintain A Composite Deck?
Your maintenance will involve a thorough cleaning once or twice per year (depending on the mold/algae growth) with a pressure washer.  That is basically it!  Wood decks need to be power washed, sanded and painted every few years or they'll simply rot away and fall apart.  Composite decking on the other hand will stand up to the elements much better, and for much longer without you needing to step in with pro-active maintenance.
Who Builds Composite Decks In Ham Lake Minnesota?
ThunderStruck Restorations LLC is a full service home improvement contractor based out of Ham Lake Minnesota.  We specialize in designing and building beautiful decks onto Minnesota homes and businesses made with both wood and composite materials.  If you'd like to have us provide you with an estimate for your new composite deck then please give us a call or fill out the online form today.