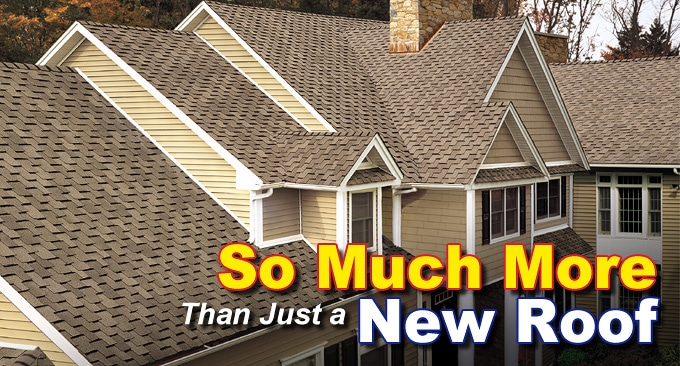 ThunderStruck Restorations LLC is a full service roofing contractor and we sell and install architectural shingle roofing systems on high end homes for new construction, home improvement and total roof replacements due to storm damage.  Architectural shingles can help enhance the look of your home or business.
What Is An Architectural Roofing System?
It's actually a combination of several factors  beginning with superior materials and construction of the shingles themselves.   Architectural shingles or also known as laminated or dimensional shingles provide a stunning three dimensional appearance  to your roofing surface. Some of the most attractive architectural roofing shingles simulate cedar wood shakes or other popular luxury roofing materials such as stone or slate.
Architectural shingles themselves also offer homeowners many more color and style options.  This flexibility allows you to install a roofing system that really accents your home and in a way that you get to choose.
ThunderStruck Restorations LLC sells and installs roofing systems from proven manufacturers such as GAF, Atlas, Owens Corning, Certainteed and DECRA.  We only install the best products on your home because a big part of being the best is the warranty behind the products and how the manufacturer handles those claims should they ever occur.
We're looking out for you at ThunderStruck Restorations LLC not just during your roof replacement but 5, 10, 15 even 25 years into the future.  We want your roof to last!
Atlas StormMaster Shingles
StormMaster® Shake shingles featuring Scotchgard™ Protector offer durability and architectural style for a timeless look.
We Install The Following Quality Roofing:
Asphalt Shingles
Atlas Shingles
GAF Roofing Materials
Owens Corning Roofing Materials
Certainteed Roofing Materials
DECRA Metal Roofing
It's important that the roofing contractor you choose to install your designer roof system educates you on the products that are available and what will work best for your specific home. You want to be sold the right product for your roof! Not the most profitable product for the roofer.