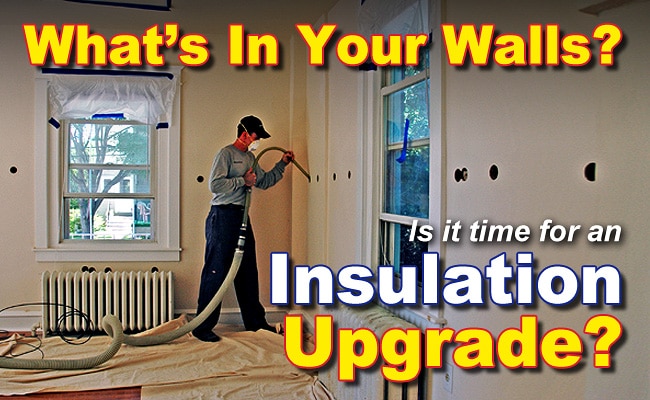 Many Minnesota Homes Have Outdated or Insufficient Wall Insulation
We specialize in the installation of energy-efficient blown-in wall insulation systems.
Similar to many homeowners across the Twin Cities, Minnesota area, you may feel like your energy bills are higher than they should be. One of the primary reasons for this costly problem might be all around you - in the walls. You've probably never seen what's inside your walls, so you probably didn't realize that the old or insufficient insulation within them is causing your heating and cooling bills to be higher than what many of your neighbors are paying.
Blown-in wall insulation literally "pays for itself".
Don't waste any time losing sleep over all the energy dollars you've been losing due to that old, outdated wall insulation. Instead, take action now by making the smart, proactive decision and start saving energy dollars today with blown-in wall insulation installation from ThunderStruck Restorations. Homeowners all over Minnesota are happily discovering the energy-efficient and cost-effective benefits of having their old-fashioned wall insulation upgraded to blown-in insulation.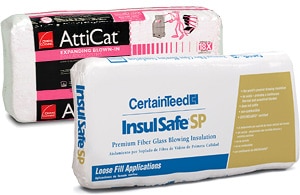 It's all about the "R-Value"!
R-Value is the common standard which all insulation products are measured by. R-value measures resistance to heat flow; the higher the R-value, the greater the insulating power. R-value is usually determined by the thickness of the insulation. Blown-in insulation can be as thick as you want to achieve any desired R-value.
The many benefits of Blown-In Wall Insulation:
Higher performance insulating power means real savings on energy costs
Makes your home more comfortable all year round
Stops air and moisture infiltration
Keeps mold, pollen and pollutants from passing through your walls and into your home
Totally seamless - it will not sag
Thunderstruck Customer Testimonials
"ThunderStruck recently finished up building our deck. They did a great job! He worked with us on the design and built one solid deck! It is refreshing working with a contractor that takes such pride in their work. The rest of the team was top notch as well. They have earned our trust and we will spread the word. Thanks ThunderStruck!"
"We did not discover Thunderstruck via Angie's List, but we are certainly glad we did get connected.  We realized that our deck was past the point of refinishing, and started looking for estimates for replacement in 2015 (or 2016, since it was late July already). I read about an interesting product online, and it was through a link for that product that they contacted me. They called and came out on Saturday, August 1, before anyone else I had contacted

via Angie's List. He didn't come out to sell the product, but rather to hear what we wanted in terms of a new deck. He brought along a variety of decking products, and spent 75 minutes reviewing our thoughts and tossing out ideas. He insisted on leaving samples so we could get a sense of what they are like after sun exposure (some products get awfully hot).
Within a day he had assembled estimates for different options, from wood to composites, covering a variety of prices. We became more familiar with the many options out there, and over a 10 day period there were were numerous emails and phone calls to clarify and refine the plans. We called his references, and the comments were outstanding.

Now, just a month after first contacting him, the project is complete, and it looks great. We have a beautiful cedar deck with no-maintenance aluminum Westbury railings, and a cedar drink rail. The Thunderstruck team was there to keep track and help out as Beau (sp?) and Rod put things together, and to make sure that we were getting the look we wanted. Better yet, Rod made a simple design suggestion that enhanced the look, and Beau did meticulous work. Like I said, we are glad we got connected and recommend them highly."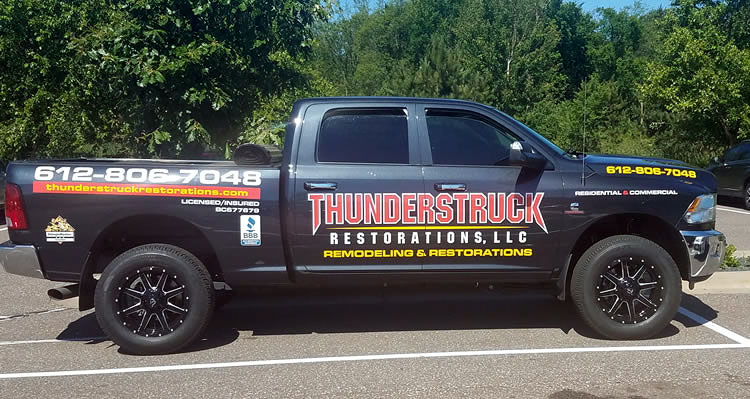 Ready To Schedule Your Estimate?
Give us a call at 612-808-7048 or fill out our quick contact form on the website and someone will get right back to you.