Do You Need a Home Improvement Contractor in Minneapolis MN?
We specialize in roofing, siding, windows, gutters and insulation.
Is your Minneapolis home an older home or in need of some upgrades?  Many homes that are 15-25 years old or older could benefit from modern home improvements such as new roofing, siding, windows, gutters and insulation in both walls and attics.
These are upgrades that will not only help protect your home but newer materials are lower maintenance and will help improve your curb appeal which lead to a higher resale value and more pride in your home.
ThunderStruck Restorations is a full service home improvement contractor serving the Minneapolis area.  We specialize in mostly exterior home improvements such as roofing replacement, siding installations, seamless gutters, vinyl replacement windows and spray-in insulation.
From tearing off and replacing an old roof, to replacing your siding to installing all new windows in your home the small but dedicated team at ThunderStruck Restorations can make it happen.
Home Improvement Services We Offer in Minneapolis MN
Roofing
Asphalt Roofing
Metal Roofing
Architectural Roofing
DECRA Stone Shingles
Roofing Inspections
Storm Damage Repairs
Spray-in Attic Insulation
Deck Construction
Composite Deck Construction
Pressure Treated Wood Decks
Flat Roofing
EPDM Rubber Roofing
Siding Replacement
Aluminum Siding
Steel Siding
Fiber Cement Siding
Vinyl Siding
Window Replacements
Seamless Gutters
Gutter Cleaning
Gutter Covers
The Minneapolis Home Energy Efficiency Makeover
Some older homes have still not taken advantage of some of the modern, more efficient building materials on the market. If you live in older home that has never been updated then you'd benefit from installing items like new vinyl siding, spray-in attic insulation and energy efficient windows.
New Energy Efficient Windows
Spray-in Attic Insulation
New Siding
While it's silly to make bold claims as to the energy savings one can realize with these upgrades to your home it is safe to say they will make a difference in your energy bills but don't expect them to "pay for themselves" there are far too many variables.  If you plan on living in your home for many years an Energy Makeover makes sense.
Window Replacements Minneapolis
There are still thousands of homes throughout the Minneapolis area that are still outfitted with inefficient windows and they cost homeowners additional money every month in the form of higher electric bills.  A high-performance window will help your home regulate temperature throughout the seasons without putting such a strain on your A/C or heating system because they insulate better.  During the summer a good quality window keeps your home cooler and during the winter it can help keep your home warmer.  Even newer windows if they are poorly installed won't perform as promised so the quality of your window installation is always key.
Thunderstruck Restorations LLC specializes in replacing the windows in Minneapolis homes.  We don't just slap the windows in, we take our time, we use the proper tools and we use the highest quality caulks, sealants and fasteners to ensure your window is secure and installed to meet the manufacturers warranty specifications.
Roofing Inspection, Repair and Replacement in Minneapolis
Has your Minneapolis home been damaged by a hail or windstorm?  If your home has recently been damaged in a storm, it's important to have any damage inspected and documented as soon as possible for insurance purposes and the security of safety of your home.  We've had some damaging hail storms as of late in our area and they've caused millions of dollars in property damage to homes and buildings throughout the area including destroying many shingle roofs.
Thunderstruck Restorations LLC specializes in inspecting storm damaged roofs and providing the necessary replacement or repair.  We have a great deal of experience working with insurance companies and can help you properly document the damage to your home to the stringent standards most insurers require.  We also specialize in all aspects of roofing repair and replacement.
Attic Insulation Installers in Minneapolis
The attic of your home is usually the last place many homeowners are looking for improved comfort and energy savings but in reality it's one of the first places a homeowner should be looking.  If you own a home that is 15 -30 years old or older and you are unfamiliar with the updating it's had, then an inspection of your attic insulation could help you shrink the size of those electric bills if you have old, outdated insulation.
Thunderstruck Restorations LLC specializes in the installation of blown-in attic insulation.  In a matter of a few hours we can help you substantially increase the insulation (R-Value) of your Minneapolis home.  Helping your home stay more comfortable and working to reduce the energy consumption of your home.
Wood and Composite Deck Construction Minneapolis
Do your home remodeling plans include a newly built deck?  What about the rebuild of an existing deck that has seen better days?  Building a nice deck on your property is one of the most enjoyable home improvement projects you can do on your Minnesota home or property.  Whether you like to entertain and host parties or BBQ's or just want to sit and relax and enjoy the weather with a good book, the team at Thunderstruck Restorations LLC can help you design and build a beautiful new deck on your property.
Why Choose ThunderStruck Restorations LLC For Your Minneapolis Home Improvements?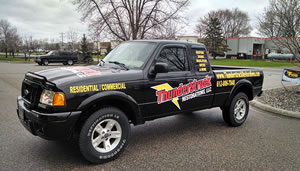 When you choose ThunderStruck Restorations to work on your home you are partnering with a local family business, run by meticulous craftsman who take their work on your home very seriously.
You can count on receiving the highest quality products, installed by a dedicated team of craftsman who will leave no mess behind.
Your new home improvements will carry a warranty and you'll have the peace of mind knowing that we're going to be around to service it should you ever need us again.
If you'd like to request an estimate for some home improvement projects for home please give us a call or fill out our contact form and someone will be getting right back to you.