Have You Thought About Properly Insulating Your Attic?
It's One Of The Top 5 Home Improvement Projects Nationwide!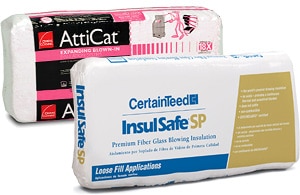 If you're a homeowner looking to improve the curb appeal of your home, you might not find much helpful information in this article.  On the other hand, if you're a homeowner looking for small, meaningful ways to improve your home (while putting money in your pocket every month) then insulating your attic is a home improvement project you don't want to overlook.
If your home is 15-20 years old or older then your attic insulation (it you have any) could greatly benefit from today's insulation technology.  While insulating your attic doesn't sound like a very fun and exciting experience, it can really help improve your home's efficiency and it takes a professional usually less than a day to have your attic insulated and ready-for-winter.
If You're A Minnesota Homeowner Is Attic Insulation Really Worth It?
The short answer is Yes!  According to the U.S. Department of Energy, most homeowners could save anywhere from 10 to 50% on their energy bills, just by making sure that the attic is insulated properly with a modern (High R Value) insulation material.  Homeowners in mild climates like the West Coast probably won't realize the same results, but for a home in Minnesota, where we get cold winters with freezing weather and frequent ice and snow, the additional insulation in your attic can make a big difference in comfort levels and your energy bill at the end of the month.
While you'll never be able to control the cost for energy/power we can certainly make efforts to control how much of it we use!  In the Minnesota winter, we have our heat cranked and much of that heat, rises, up through your home and into your attic and eventually out to the atmosphere.  Having proper attic insulation in place works to prevent this substantial heat loss.
How Your Home Heating and AC Works With Your Attic Insulation
Most modern homes are equipped with an HVAC system or at the very least, a source of heat.  HVAC stands for Heating, Ventilation and Air Conditioning.  Whether you're using a wood burning fireplace, a natural gas fireplace or electric baseboard heaters your heating systems rely on good quality insulation in order to effectively (and efficiently) heat your home.
If your home has inadequate insulation then much of the warm air your heating system creates, will actually escape.  We all know that warm air rises, so the warm air rises through home your attic is the last space the heat travels through on it's way outside.  Most of us don't want to pay to heat the neighborhood, having good insulation in place ensures the heat is kept inside the home.
The same applies to cool air in the summer.  When it's hot outside and you're running an air conditioner in your home, a well insulated attic will keep the interior of your home cooler and the air conditioner won't have to work quite so hard.
Can You Install Attic Insulation On Your Own?
Of course you can!  The insulation materials we use can be purchased from any home improvement store and you can also rent the machines to blow it into your attic.  But buying the material and renting the machine is only where the work begins!  You've still got to know what type of insulation you have currently (does it need to be removed?), you'll need to calculate how much insulation you need for your attic, what type you want to install, you'll haul the material and machine to your home, crawl up into your attic and blow in the insulation.
For the unprepared homeowner without the equipment or tools, this could be a 1 day project or take up your entire weekend.  If you don't mind the work load and want to save a few bucks, there is no doubt that insulating the attic on your own will be less expensive than hiring a professional.
Why Should You Hire A Professional To Insulate Your Attic?
Hiring a professional just makes sense if you value your time.  We have the knowledge, the equipment and expertise to do the job quickly and efficiently.  We can complete most attic insulation projects within a day, maybe 2 days if you have a large or difficult attic to work with.  Then you begin to see results immediately.  As a professional installer we've undergone training through the manufacturer to ensure you're getting the best (most effective) installation possible.
How Much Does Attic Insulation Cost To Install By A Professional?
Every home varies in cost due to a variety of factors we'll explain.  If you just want a rough ball-park, it's usually about $600 – $2000 or more to insulate an attic with blown-in insulation.  The size of the home, the accessibility of the attic, and the amount of insulation required are going to be the most significant drivers for cost.
Unlike many home improvement projects where cost benefits are only realized when you sell your home, attic insulation starts to provide cost benefits immediately.  If you plan on staying in your home for several years proper attic insulation makes good financial sense if you want to make wise investments into your home.
How Much Money Will You Save On Your Energy Bills?
Good Question!  And without knowing your exact power usage before and after insulating your attic, we won't know!  What we can tell you is the owners of older, more in-efficient homes (15-50+ years old) are usually the homes that benefit the most from attic insulation.  If your home was built within the last 5 years, it's quite likely you already have excellent insulation in place and would have no reason to upgrade.
Thunderstruck Restorations Installs Attic Insulation
At Thunderstruck Restorations we specialize in the installing of both Owens Corning Atticat and CertainTeed InsulSafe SP.  One of our technicians can visit your home, inspect your existing insulation and help you choose the best material and an appropriate installation depth to effectively improve the efficiency of your home.
We install attic insulation for homeowners in the following areas of Minnesota: Forest lake, Blaine, Coon Rapids, Minneapolis, Shoreview, Roseville, Maple Wood, Oak Grove, Anoka and Ham Lake.
If you'd like to receive an estimate to insulate your attic please give us a call (612) 806-7048 or fill out our contact form and we'll get right back to you.