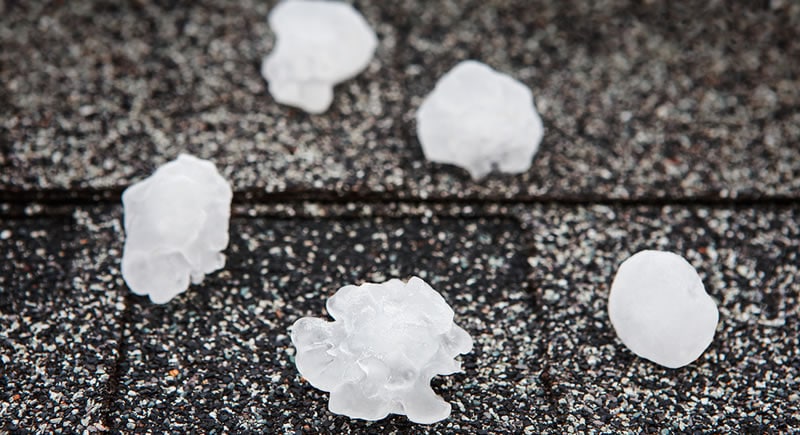 Repairing Your Home After A Hail Storm
Has your home been damaged in a recent hail storm?  Have you climbed up onto your roof to inspect for damage?  Hail can be extremely damaging to your home and this past year has had a number of hail storms pass through our area.  Hail can cause damage to roofing, windows, skylights, and even your siding from the wind driving it into your home.
Areas Recently Affected By Hail:
Otsego
Dayton
Ramsey
Circle Pines
Shoreview
White Bear Lake
North Oaks
What Has Been Damaged On Your Home?
Roofing shingle damage
Roof vent damage
Gutter and downspout damage
Cracked or leaking skylights
Damage siding
Thunderstruck Restorations LLC is a local home improvement contractor based out of Ham Lake MN and serving the surrounding area.  We specialize in repairing homes and businesses that have been damaged in a hail storm.  From replacing roof vents and gutters to replacing your entire roof or siding our team can help you get your home or building repaired.  We can work with your insurance company to ensure your damage is properly inspected and documented to make your claims process go smoothly.
What You Need To Know About Hail Damage
#1.  What Causes Hail?
There are many misconceptions about what hail actually is.  Yes, it's ice, but how and why is it formed?  Hail is formed when rain is falling but there is a powerful updraft blowing the wind upwards.  This prevents the rain from falling to the ground.  Instead, the rain is blow back up into the higher altitudes where the temperature is much colder and the rain drop begins to freeze.  They can go through this journey multiple times, falling, and being blown back up into the freezing zone, which makes the frozen rain drop become larger and larger until it finally falls to the ground at a speed in excess of 70 miles per hour.
#2.  How Big Does The Have To Be To Cause Damage?
Many hail storms will pass through without causing damage to your home.  These are usually the storms that have hail that is the size of a pea or smaller.  Even hail the size of a marble usually won't cause significant damage to your home.  The damage occurs with hail that is the diameter of a quarter or ping pong ball size.  When these hail stones come rocketing out of the sky into your home they are large enough to cause damage.
#3. What Kind Of Damage Can Hail Cause?
Hail can cause all sorts of damage to your home, some of it very noticeable and obvious, and some of the damage can only be found with a trained eye.  When the hail falling is the size of a golf ball or bigger it's almost a guarantee there will be some damage to your home or building.
Common Hail Damage We See:
Roofing Damage:  Roofing damage can manifest itself in several different ways after a hailstorm.  The shingles can be pounded so hard they will crack and break, if there is strong winds, they can be broken and blown right off the roof.  The hail can cause damage to your roofing vents (which are usually plastic), and also to your roof flashing and the roof valley flashing as well.  Shingles can be hit with hail so hard they become"bruised" this type of damage isn't so obvious without closer inspection but it can drastically reduce the lifespan of your roof.  Hail damage to a roof might not be obvious for a long time after the damage has occurred as it won't start leaking right away.
Gutter Damage:  In some cases the hail can be so severe when it hits your gutters that it can literally pull them right off the fascia on your home or building.  This is especially so if the gutters are old or use an old gutter hanging system that isn't very strong.  When your gutters come down it usually destroys the fascia board as well so it is usually replaced as a unit.  If your gutters are damaged or destroyed by hail they need to be fixed quickly as a gutter system that isn't working properly can cause other problems for your home.
Skylight Damage:  Skylights on your roof are very susceptible to hail damage, especially when the hail is golf ball sized or bigger.  Falling 30,000 feet out of the clouds at 70+mph hail can easily punch right through a skylight whether they are plastic or glass.  The flashing around a skylight can also be damaged and creates a situation where the skylight will likely have to be professionally replaced.
Siding Damage:  Hail is usually accompanied by strong wind.  The combination of strong driving wind along with golf ball sized hail can cause damage to your siding.  When hailstorms of this size pass through the area we are often called out for extensive damage to siding which can include cracking, holes, and siding outright falling off the home.  If your siding is older and brittle then it has an even higher chance of sustaining damage.
#4.  Is Hail Damage Covered By Insurance?
In most cases, yes.  Hail damage is covered by most home insurance policies.  You'll want to go over your own policy though to ensure that you are covered, what your deductible is, and what the process is for initiating a claim.
What You Need To Know About Inspecting Hail Damage
While we've already gone over some of the types of hail damage, some is obvious, some is not, it's important to have a professional contractor come and perform a detailed inspection of your home for damage if you've had a severe hailstorm.
Be wary of contractors who come around your neighborhood "door knocking" after a storm.  While it may seem convenient that they've show up and come right to your door, the homeowners who choose "storm chaser" contractors are often left with shoddy, poorly performed repairs, and they often will end up paying a lot more than they should have for the work and in many cases have no warranty protection.
Choosing a reputable contractor will ensure your hail damage can be properly documented for insurance purposes, your home will be repaired as good as new with quality materials and you'll have a local contact should you ever need their help again.
Thunderstruck Restorations Specializes In Hail & Storm Damage Repairs
We specialize in working with home and building owners who's building has been damaged by a recent hailstorm.  We can come and assess the damage, provide any temporary measures such as tarping a roof or covering a skylight, and we can properly document the damage with photos and written reports for submission to your insurance company.
If you need your home inspected for damage after a hailstorm then give ThunderStruck Restorations a call today and one of our storm damage experts can setup an appointment with you to inspect your home, answer your questions, and help you take the next step in repairing your home properly.