Cedar Deck Construction Ham Lake MN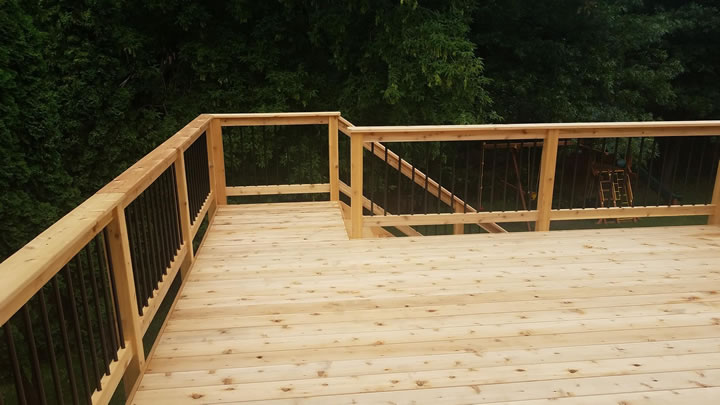 Custom Cedar & Redwood Deck Construction
We design and build decks using Western Red Cedar.
The natural wood look is very popular for deck construction and if you love the look, feel, and smell of natural wood, a cedar deck might be the right choice for you.  Western Red Cedar is an excellent wood for outdoor construction such as decks as it's soft and easy for a carpenter to work with.  Cedar doesn't readily absorb moisture as other woods can and moisture is the leading cause of twisting, splitting and warping of deck boards.  Cedar has a tendency to want to lie flat and straight, especially if the wood has been chosen with care.
Thunderstruck Restorations LLC is a family owned and operated construction company based out of Ham Lake, MN.  We specialize in the design and construction of custom Western Red Cedar wood decks.  Whether you want a simple square or rectangle cedar deck to enjoy the backyard or a very large complex, multi-level or irregular shaped deck with provisions for power, water and an outdoor cooking area, the team at Thunderstruck Restorations can bring your deck vision to life!
Cedar Deck Construction Service
Custom cedar and redwood decks
Custom cedar deck refacing
Cedar deck replacement
Superior Quality and Craftsmanship
Thunderstruck Restorations employs craftsman carpenters that have extensive experience building custom decks.  Only the finest quality decking products are used on your deck.  We use only the straightest, defect free, lumber and it's always hand picked whenever possible.
Our superior quality deck installations also include using high quality fasteners that won't rust or discolor your decking materials after a few years.   We also install beautiful, maintenance free aluminum railing solutions to ensure your deck is a safe place for your family and friends to enjoy.
Maintaining Your New Cedar Deck
Cedar has a beautiful natural color with the heartwood (center) of the tree taking on a reddish hue.  The colors of cedar can be accentuated using proper finishing techniques and stain if you so wish.  Cedar decks, while beautiful, do require a certain level of upkeep in order to keep them looking great.  Your cedar deck will need to be thoroughly cleaned (very gently with a pressure washer and a good scrub) but it will also need to be resealed or restained at least every other year, especially with our harsh winter weather.