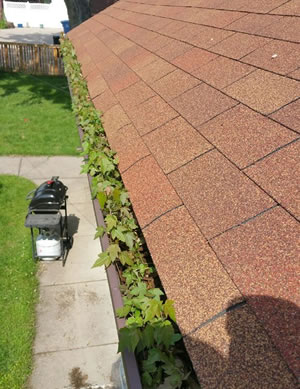 Are You Struggling To Keep Your Gutters Clean From Leaves and Debris?
We'll have your gutters spotless and free from debris and clogs in no time!
The gutters on your home or building work to channel away the run-off water from your roof away from your foundation via the downspouts and drainage system you have in place.  When your gutters become clogged with sticks, leaves, debris and even roofing granules this impedes the flow of water and your gutters can get backed up.
Backed up gutters can lead to roofing problems as the water can work it's way in behind every little nook and then when it freezes you have all the makings of an ice dam that can be very damaging to your home and expensive to fix.  Keeping your gutters clean is simply cheap insurance.
ThunderStruck Restorations LLC is a full service home improvement contractor based out of Ham Lake, Minnesota.  One of the projects we specialize in is cleaning gutters on homes throughout the area.  Using ladders and safe work practices we'll be able to clean out your gutters of all the debris that is clogging them up.
Gutter Cleaning Services Ham Lake Minnesota
Gutter Cleaning
Power Washing Gutters
Gutter Repairs
Depending on how much tree cover you have on your property you may need to have your gutters cleaned once or twice per year.  Clean gutters help water flow freely through your gutter system, into your downspouts and out into your drainage system to protect your foundation (and your basement) from damage.
If your gutters are dirty, full of debris and you either don't have the time to clean them, or don't feel safe without the right tools and equipment then give ThunderStruck Restorations LLC a call today or use our online contact form and we'll organize a time to come and professionally clean your gutters.