Do You Need a Home Improvement Contractor in Ham Lake MN?
We specialize in roofing, siding, windows, gutters and insulation.
Is your Ham Lake home an older home or in need of some upgrades?  Many homes that are 15-25 years old or older could benefit from modern home improvements such as new roofing, siding, windows, gutters and insulation in both walls and attics.
These are upgrades that will not only help protect your home but newer materials are lower maintenance and will help improve your curb appeal which lead to a higher resale value and more pride in your home.
ThunderStruck Restorations is a full service home improvement contractor serving the Ham Lake area.  We specialize in mostly exterior home improvements such as roofing replacement, siding installations, seamless gutters, vinyl replacement windows and spray-in insulation.
From tearing off and replacing an old roof, to replacing your siding to installing all new windows in your home the small but dedicated team at ThunderStruck Restorations can make it happen.
Home Improvement Services We Offer in Ham Lake MN
[one-half-first]
Roofing
Asphalt Roofing
Metal Roofing
Architectural Roofing
DECRA Stone Shingles
Roofing Inspections
Storm Damage Repairs
Spray-in Attic Insulation
Deck Construction
Composite Deck Construction
Pressure Treated Wood Decks
[/one-half-first][one-half]Flat Roofing
EPDM Rubber Roofing
Siding Replacement
Aluminum Siding
Steel Siding
Fiber Cement Siding
Vinyl Siding
Window Replacements
Seamless Gutters
Gutter Cleaning
Gutter Covers[/one-half]
The Ham Lake Home Energy Effiency Makeover
Some older homes have still not taken advantage of some of the modern, more efficient building materials on the market. If you live in older home that has never been updated then you'd benefit from installing items like new vinyl siding, spray-in attic insulation and energy efficient windows.
New Energy Efficient Windows
Spray-in Attic Insulation
New Siding
While it's silly to make bold claims as to the energy savings one can realize with these upgrades to your home it is safe to say they will make a difference in your energy bills but don't expect them to "pay for themselves" there are far too many variables.  If you plan on living in your home for many years an Energy Makeover makes sense.
Why Choose ThunderStruck Restorations LLC For Your Ham Lake Home Improvements?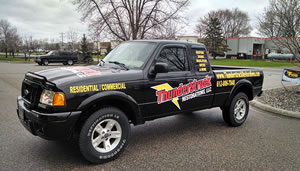 When you choose ThunderStruck Restorations to work on your home you are partnering with a local family business, run by meticulous craftsman who take their work on your home very seriously.
You can count on receiving the highest quality products, installed by a dedicated team of craftsman who will leave no mess behind.
Your new home improvements will carry a warranty and you'll have the peace of mind knowing that we're going to be around to service it should you ever need us again.
If you'd like to request an estimate for some home improvement projects for home please give us a call or fill out our contact form and someone will be getting right back to you.